By Nancy Bourque
HR Practice Leader at United Benefit Advisors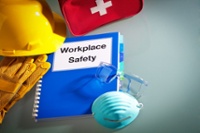 The Occupational Safety and Health Administration (OSHA) has issued sweeping changes to record-keeping and reporting rules. Starting in 2017, employers with as few as 20 employees may be required to electronically report workplace injuries and illnesses on an annual basis, and the information from those reports will be searchable, by employer name, by any member of the public.
Are you a covered employer?
Determine if you are a business with 20 or more employees that is considered "high risk":
The list includes most retailers, care facilities, transportation services, home delivery services, museums and historical sites, and specialty food services.
The complete list can be found on the OSHA website
If you are not "high risk," determine if you have at least 250 employees:
Headcount for OSHA means "the number of paid workers, including full time, part time and seasonal, assigned at any time during the last calendar year."
Contract workers, if supervised by the host company, are included when recording injuries and illnesses.
Headcount is calculated by site, not as a company total
If you are a covered employer, request UBA's Compliance Advisor, "OSHA Reporting Changes: Employer Checklist" for a step-by-step guide to reviewing your employee communications, policies, handbooks and incentive programs for compliance. From OSHA posters, to drug and discipline policies, to incentive programs that may deter accident reporting, make sure you are ready for the changes.