By Bill Olson, Chief Marketing Officer at United Benefit Advisors
UBA's Special Report – Trends in Prescription Drug Benefits explores our Health Plan Survey findings in more detail, particularly examining what's happening with prescription drug plan design among different group sizes, regions and industries. When it comes to copay amounts, median retail prescription drug copays are $10/$30 for two-tier plans, $10/$35/$55 for three-tier plans, and $10/$35/$60/$100 for four-tier plans. These amounts have remained largely flat from 2014.
Generic drugs in the lowest tier generally cost less than $10, so employees are paying all or most of the generic cost with the tier 1 copay. This makes it difficult to raise that amount, especially if employers are concerned about medication adherence. But in four-tier models, the tier 3 copay increased 20%. Since this tier covers non-formulary brands, copay increases may continue as drug costs in this category soar.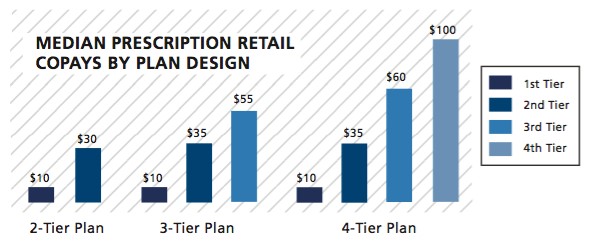 While median copays in four-tier plans see no fluctuation among region, size or industry, three-tier plans show some creative cost management among some groups. For example, the largest employers (1,000+ employees) and Northeastern groups are pushing up the tier 3 copay above average. With employers flocking to 4+ tier plans, copay hikes in three-tier models may become more common for those hesitant to expand drug tiers.
As five-tier plans emerge, the median copays are $10/$10/$40/$70/$100. This will be an important baseline to watch now that the UBA Health Plan Survey will start to break this out separately. In predictable fashion, small groups tend to set copays higher than average, while the large groups are below average. Regionally, the West is experimenting with driving the fifth tier copay significantly higher than average ($150) while keeping the other copays at or below average. The Central U.S. is pushing most copays in five-tier plans higher than average.